A Fusion of Photography and Movement—Interview with Gregory Bartning
Juxtapoz // Monday, 03 Jan 2011
1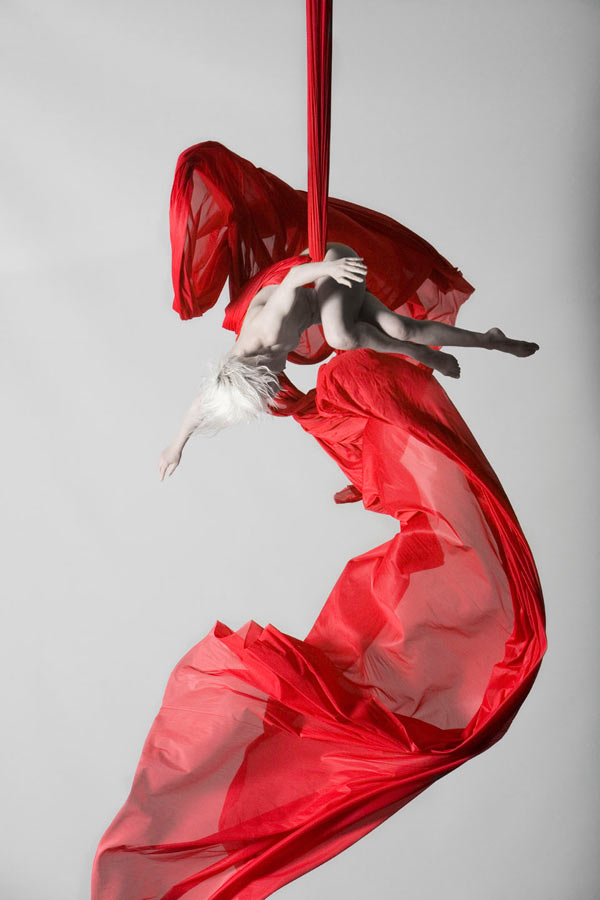 When I happened upon Gregory Bartning's photography studio during San Francisco's "Open Studios" event in the Lower Haight, my jaw literally dropped. Cliche, I know, but that was my physical response when I saw his stunning dance photography displayed on the studio walls. A dancer myself, I was baffled at how geometrically perfect the images were. A good dance photo can be hard to come by, considering that the body's angles are often awkward and unsightly when transitioning between dance moves. As it turned out, there was much more involved with Gregory's photography than simply clicking away on a camera while the artist performed. I sat down with Gregory for a coffee at "Cafe du Soleil", which is on the opposite corner from his studio, to get the lowdown on his process. —Jasmine June Cabanaw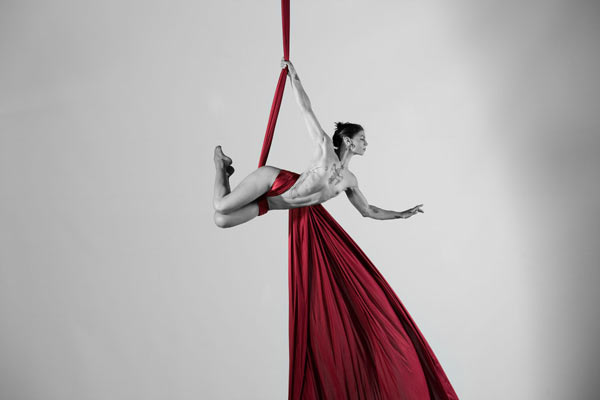 You have been doing a wide range of photography for quite some time. What inspired you to shoot movement photography?
Part of the reason that I decided to work with the photography of movement was the realization of how difficult it is to truly document the feeling or look of motion with a still image. It is a paradox of sorts. The other half of the reason is that there is a beauty that is only discovered in motion. That beauty is what I strive to bring out in each image.


Are there other photographers or artists who have influenced you in regards to this style?
I am in awe of a great many photographers and image makers. What they do inspires me to create my best image. Just a few are Howard Schatz, Lois Greenfield and James Houston. We live in a time that has many people with talent, focus and vision and they are creating fantastic work!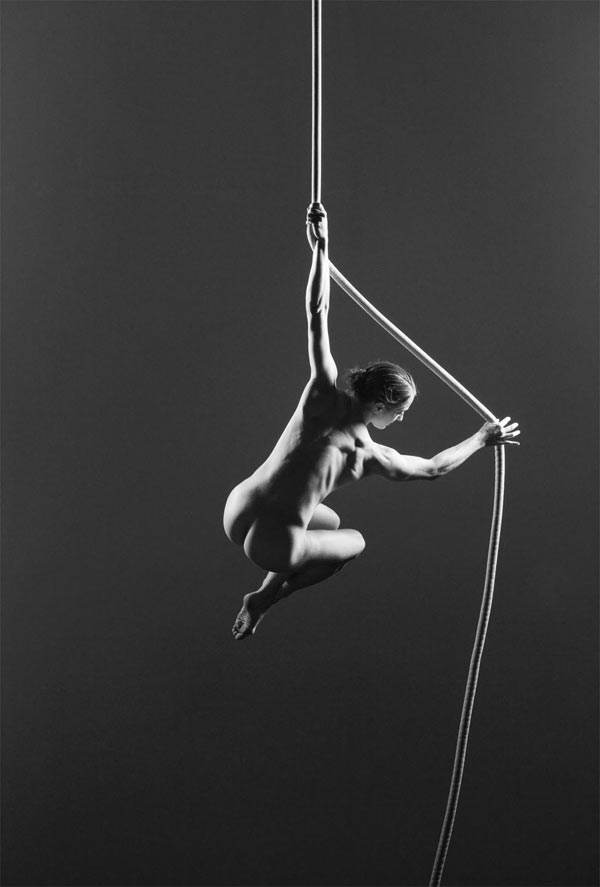 I understand that you don't just simply photograph the dancers while they are dancing, but collaborate with them in order to get the shot. Can you explain the process for me?
Yes, that is correct. Each image is not just capturing the athlete in motion as they would normally perform, but an image that is choreographed to be complete in that instant, in the photograph. All still images strive to tell the story in a single instant. In the beginning, I thought that I would just capture the dancer or artist as they moved in their piece, but I was disappointed with what I saw on my end. It lacked the magic, artistry, beauty, and power that my eyes had seen. I realized that by just capturing a frame from an instant, I was left wanting to know what had happened before that moment and what would happen after. I was left incomplete. I knew then that I had to focus on the strengths of the dancers and then alter it to be a single instant, finished without a beginning or an end, only the moment.

Can you elaborate on how this is different from shooting a dance performance?

In short, we had to choreograph for the image rather than take the image from what the dancer would do within a larger piece.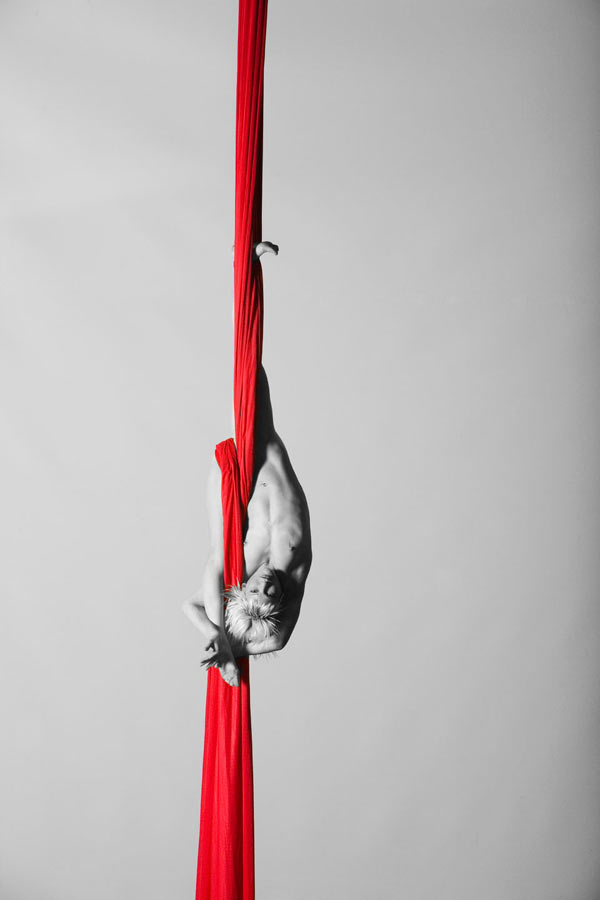 So, in a way, you are creating a new performance genre- a fusion of photography and dance. How do the dancers feel about their technique being altered?
I think most artists love to collaborate. It allows them to see both themselves and their work in a different light. Most dancers are happy to find a way to make a still image that celebrates the beauty, power and dedication to their craft. They realize that there are really nice performance images of them, but that they, too, are lacking the feeling of really being seen in their completeness. I think they realize how difficult it is to create from a still image the documentation that a video captures of their work. So if we can do that with a still image and hold the emotion, passion and power of the dancers, then they are happy to share and collaborate.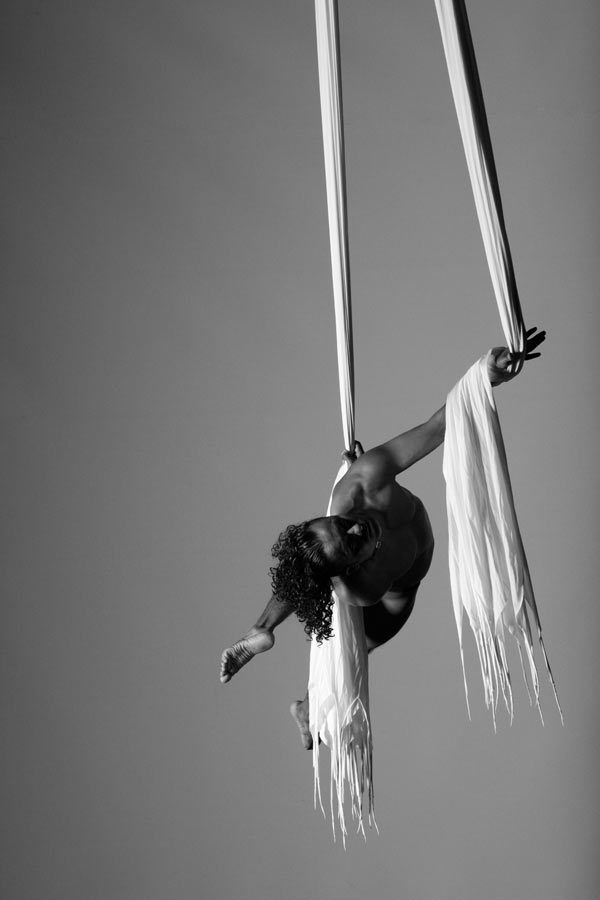 Your models are trapeze, ballet, and aerial dance performers. Why did you choose to work with these types of performers?
The sheer beauty of the human form. People are shaped by their activities. A football player has a distinctive look, as does a golfer. Dancers have a body that is carved into them by years of hard work and discipline. I feel that dancers and aerialists have come as close to perfecting the human ideal as any athlete.
Trapeze and aerial artists require some intense set-ups for their performances. Which venues did you use for the shoots and what was involved with the set-up?
For aerialists, I have been lucky to shoot in a large venue that has already been set up for easy rigging, at Ruby Skye. I also have the help of a one man army and rigger extraordinaire, Scott.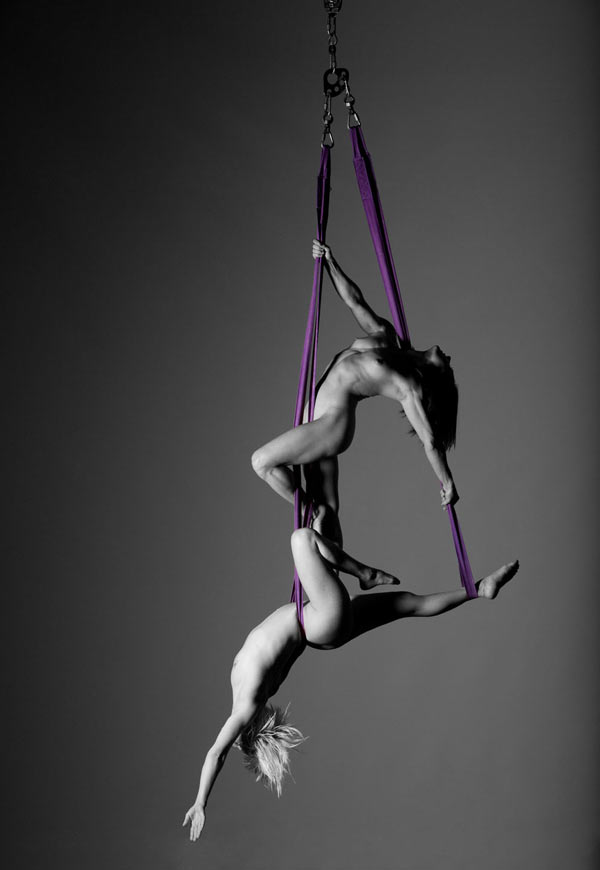 Your photographs are all nudes. Was there something specific that pushed you to go that route?
The reason that I chose to photograph the human form is because it reveals most clearly, the sculptural aspect of the individual. Costumes tend to hide the body and its beauty. I can illustrate this with a few images that really reveal the contrast.


Why did you choose to shoot in black and white over shooting in color?
For these images, I felt the black and white had a timeless feel that I wanted. It allows the viewer to really look at the image without the distraction of color. Often, color distracts from the intent of the image, whereas black and white allows us to really see.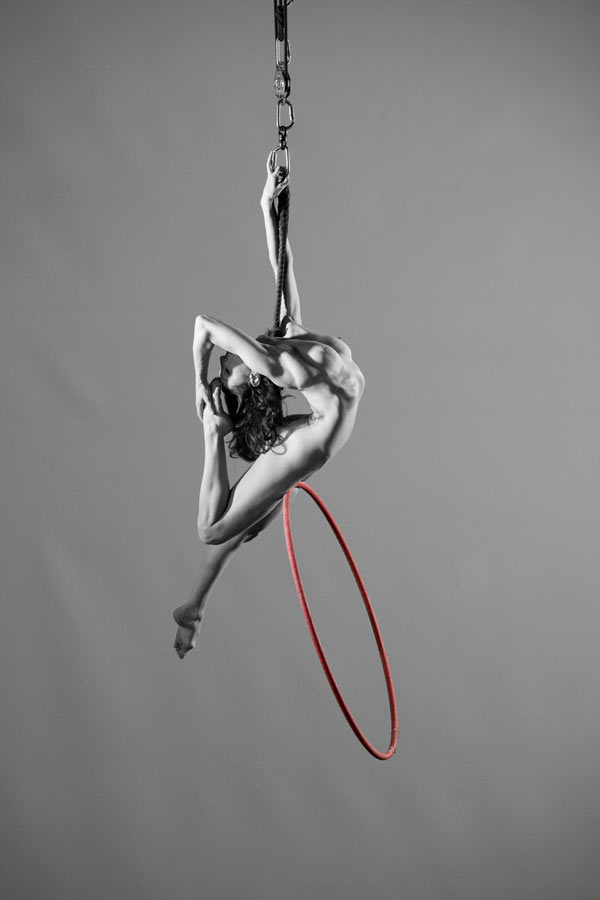 There are splashes of color in some of your photos. What prompted the addition of color?
My background for photography is shooting film. I shoot digitally now, but often I still think as I would when I shot on film. So when I started to get photographs that I felt conveyed the image that I saw, I still felt that I wanted a little more. I thought back to when I used matte fibre paper in the darkroom, which could be hand colored.. That was what some of the images needed. I "painted" in the color. And with that I felt I really had the image I wanted.
My first image that embodied all this came together a little over 5 years ago. It was called "The Leap (of change)". It involved two dancers with very different styles; one modern and the other classical. The color gave it the power I was looking for.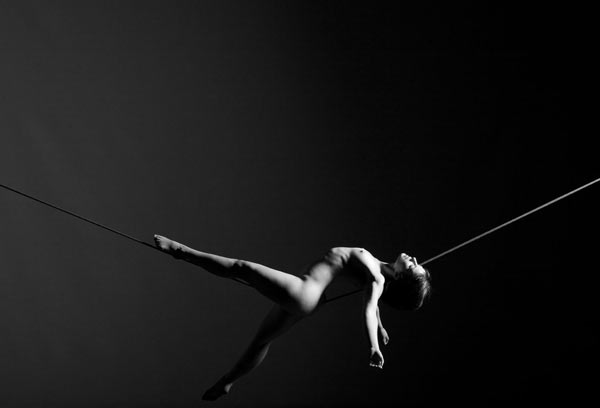 You have a calendar of these photos due out in Europe in 2012. How did that come about?
The calendar is coming out all over Europe in 2012. The company is Helma365. They met me in Palm Springs through my amazing representative, John Renner ( Renner Gallery). He had worked with them before and sent them some of my work. They really liked what they saw and decided to do a calendar called "Colours of Motion".


How was the process of arranging the photos for a calendar different from when you show in a calendar?
Helma365 actually did all the design work for the calendar. They worked with me and picked through a mix of dance and aerial images and did a neat job of clean design work and made it all come together in a beautiful way. I am excited to see the calendar in print soon!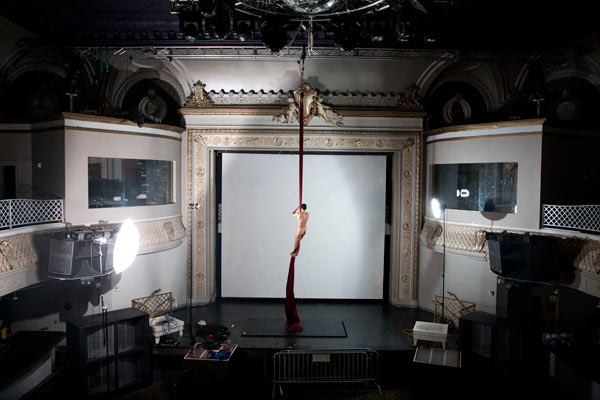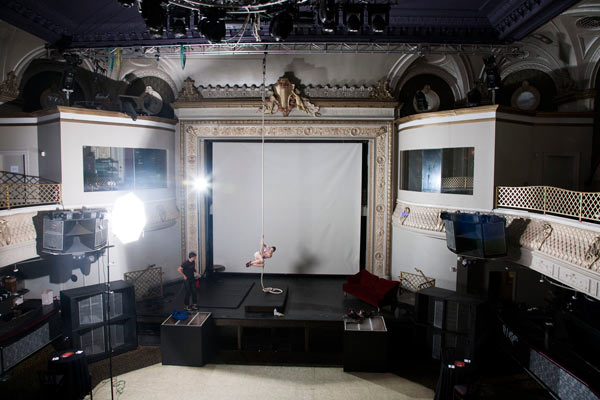 I guess that's the difference then- having a company involved in the layout and design instead of just doing it yourself. Do you plan on expanding your repertoire of dancers for future photo shoots?
Absolutely!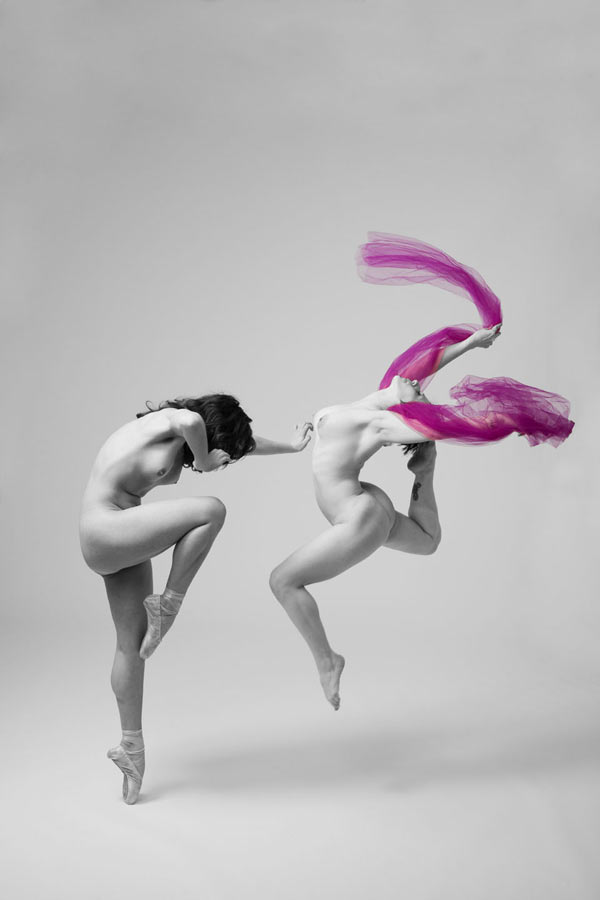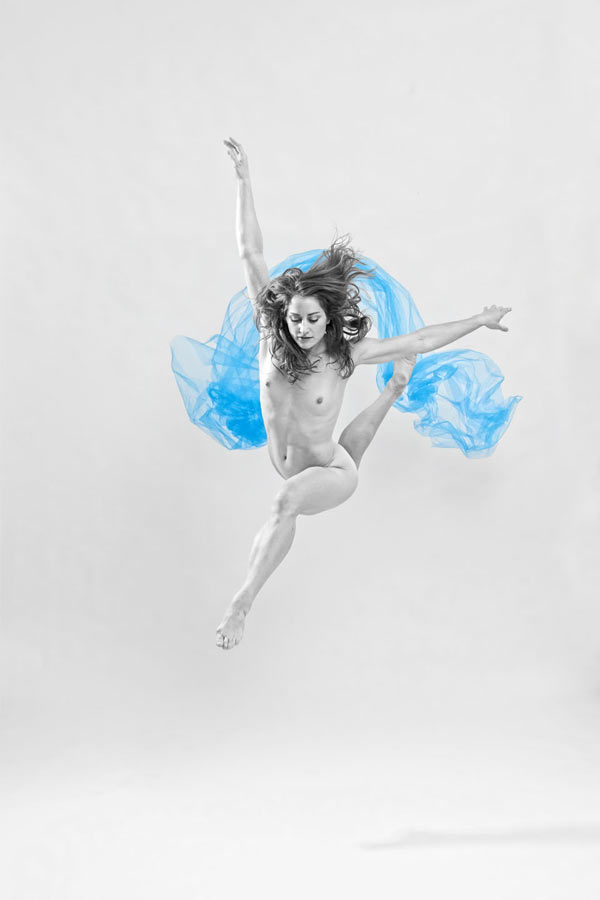 Which dance genres are you interested in photographing and why?
Dance is a celebration of the body and mind in movement. It is its own language. I hope to work with all types of dancers- from tribal belly dancing to B-boys and girls. Each person and form teaches me a new way of looking at the world and at movement.