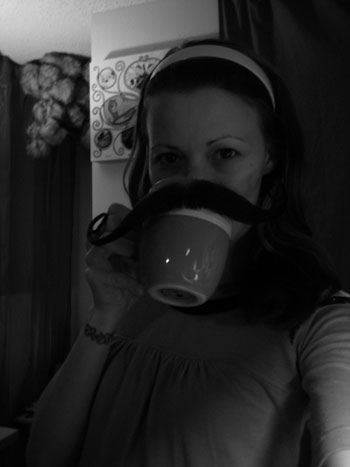 Southern California based artist
Lola
fabricates magical worlds inhabited by round-faced folks and plenty of beautiful animals. Lola has a piece in the current
Multi-Plane
show, as well as an upcoming solo at Corey Helford Gallery this March. We threw some questions her way before she got really busy with last minute touches on her new work.
Today, I feel:
Mesmerized by the pouring rain.

If you had three wishes, what would they be?
To heal the earth, to cure all evil, and knowledge and full use of my third eye.

Do you consider yourself a funny person?
Yeah, on a daily basis.
If you had one magic power, what would it be?
Hmmm, I would say the ability to fly, except I'm afraid of heights. So probably the power to cook and clean my house with the crinkle of my nose.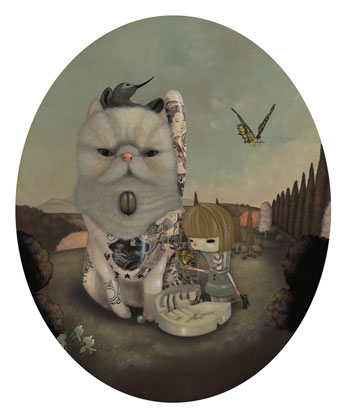 Something that makes you happy?
I just like to see those I care about feeling the best they can, and I really enjoy their company.
Something that makes you mad?
People who hurt animals and innocent human beings.
What was your favorite subject in elementary school?
Art explorers!
If you feel a creative block, what do you do to jumpstart inspiration?
Music every single time.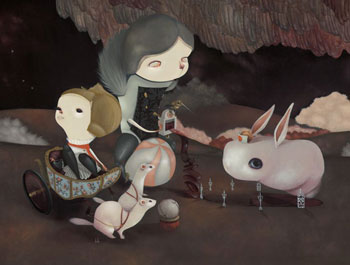 When someone is taking a photo, do you smile for the camera or turn your head?
I'm pretty shy with the camera, but I do try.
Are you a social network enthusiast? (eg Do you post photos on Facebook; listen to music on MySpace; post to YouTube, etc?)
Some of those I use, but not all. I have too much obsessive compulsion with painting to give myself too much time on the computer.
What is a quality you don't like about yourself?
My severe fear of public speaking. I get so tongue tied, it's frustrating. I'm the one who freezes up under the proverbial pressure.
Last good book you read?
Seven Days in the Art World by Sarah Thornton.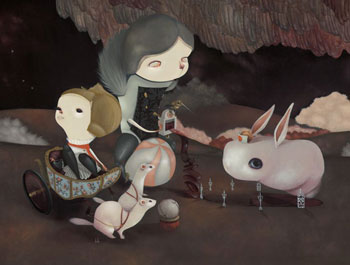 Who has had the most impact on your life?
My grandma, she is superfantastic beyond words.
Are you spiritual?
In the realm of universal connection.
One word to describe your artwork?
Ethereal.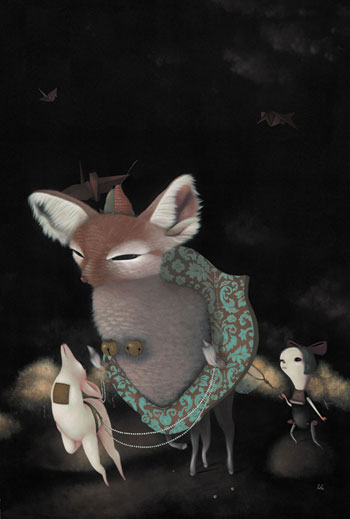 What's missing in your life?
Snuggling, I am so cuddly.
Are you a pet person?
Yes and no. I love animals, but find the attachment is to hard to bare when they pass... I've had some traumatic losses in my time.
Is your artwork understood?
I would guess probably not. I work from a deeper conscience level that hasn't been explained.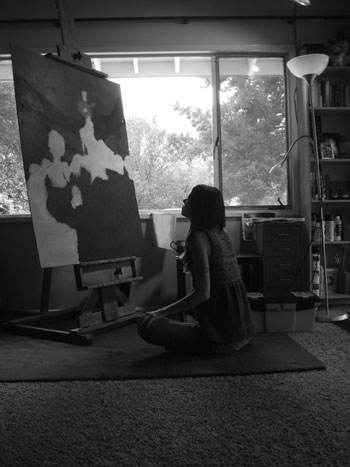 The most trouble you've ever gotten into:
There was this one time my high school friends decided to do a beer run, and got caught. They alerted police and the ghetto bird found and followed us all the way to the driver's house. He wasn't the smartest tool in the shed. I was felt up by a Riverside police officer that day.
Where do you imagine yourself in five years?
I'd love to live on a gorgeous countryside somewhere over seas, with a great painting studio and some high-end animation in the works.

More info on Lola at www.lolafineart.com
More on Lola's upcoming solo at www.coreyhelfordgallery.com