German Art on the Streets of LA: Talking with Herakut
Juxtapoz // Wednesday, 29 Sep 2010
1
"Art is a seismograph of experience which often reveals the common intersections within cultures. Looking at how this cross-pollination can enrich our cultural experience in Los Angeles is to travel without ever needing to get on a plane. This week, we are landing in Germany."
Carmen Zella : Germany has a fantastic reputation for fostering a rich contemporary art scene. How does America, and especially California, fare in its international reputation for urban art among artists like yourselves?
Hera: You invented Lowbrow! We feel a strong connection there. Maybe even stronger than with what Europe has to offer. What comes out of the European art scene tends to take itself dead-serious. We like meaningful, we like dark, but we do like a little humor to go with that.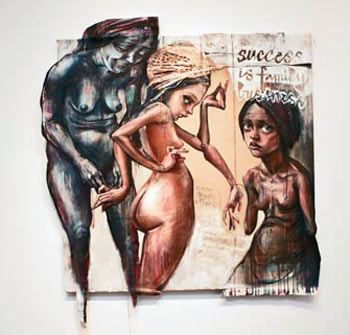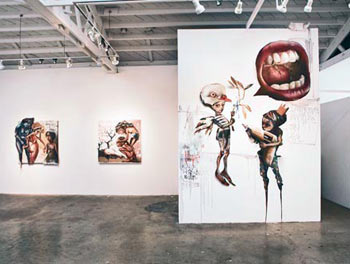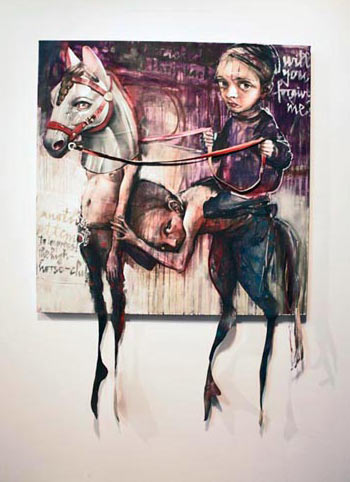 What is it that interests you about doing street art? How does your work relate to hip hop culture (if at all)?
Akut: Hip hop culture is our home base. It is where we started. It combines those four (what four?) - or some like to say five - artistic elements, with graffiti being one of them. We have painted at so many hip hop festivals, performing in front of huge crowds while there were beat-boxing contests going on around us, or we would be painting the backdrops of break-dance competitions. I guess, without hip hop culture there would be no Herakut.
Hera: We would always describe our wall pieces as one of the far ends of graffiti. But what it all comes down to is this: walls are just so much bigger and cheaper than canvas; it is much, much nicer to use spray-paint outdoors than indoors, and last but not least, working on the street always gets you an immediate response to what you are doing - which can be tough but is probably the reason why we have become artists in the first place.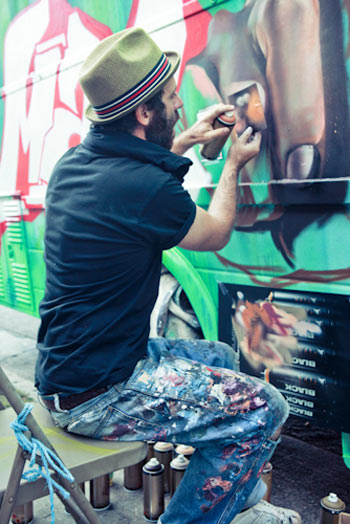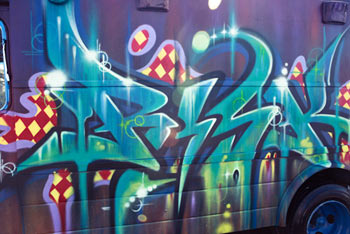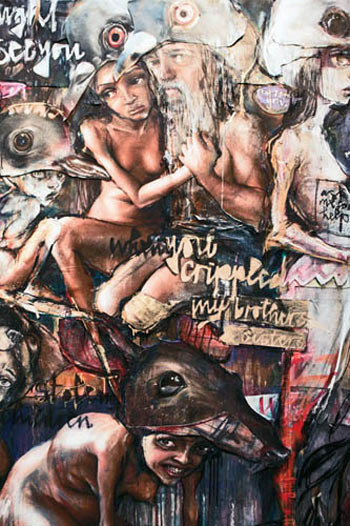 Your figures have this surreal/otherworldly quality to them, somehow based in a realm of fantasy, with somber expressions...Are these characters created from both of you equally, or one more then the other? What qualities do each of you bring individually to the collaboration?
Hera: I like to say that I do the searching to find the right lines, build the skeleton of any figure or composition. Akut then gives this mess that I have constructed a nice and tangible texture. He is responsible for the entire photorealism part. It is basically his work that bridges between dark and beautiful.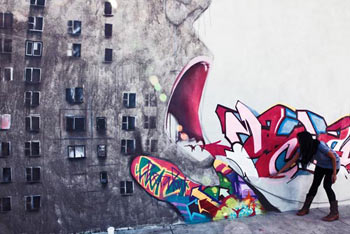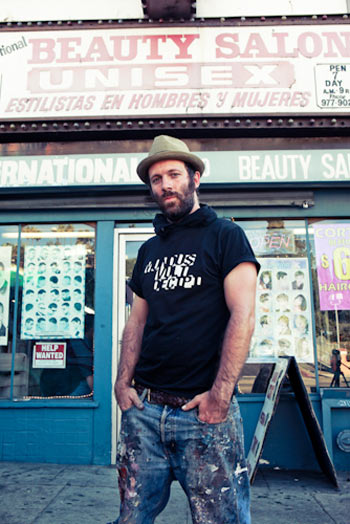 Text is not a predominant element in your style. What are your thoughts about the inclusion of text as a communication element in your artwork?
Akut: We communicate through our pieces. We share our thoughts with anyone interested. It might not look like the predominant element, but it sure is important. It is another tool to transport a message. In fact, any piece of Herakut artwork has had its roots in a dialogue between the two of us. So, every piece starts off from words.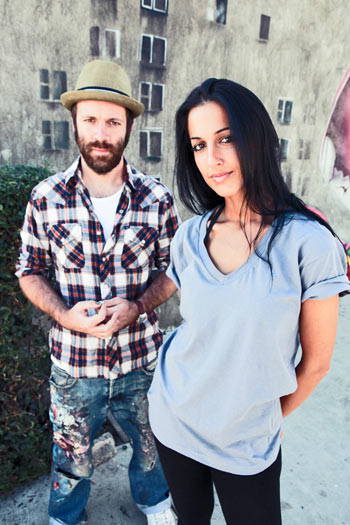 Interview by Carmen Zella.
Photos by Koury Angelo.