Image Gallery
Zap: Masters of Psychedelic Art, 1965 - 1974 at Andrew Edlin Gallery NYC
Juxtapoz // Wednesday, 25 May 2011
1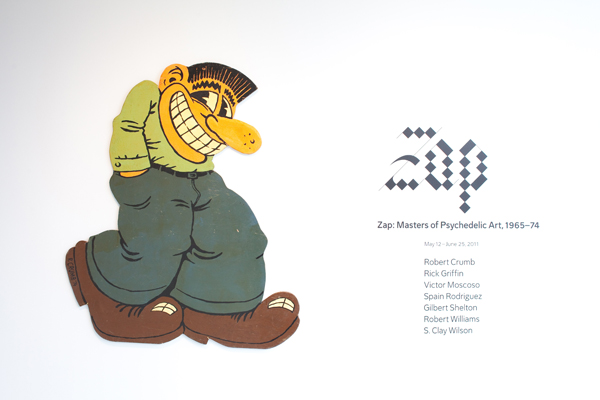 Currently at Andrew Edlin Gallery in NYC,
Zap: Masters of Psychedelic Art, 1965-74, curated by Gary Panter and Chris Byrne is on display. The exhibit features seven artists from the original Zap lineup: Robert Crumb, Victor Moscoso, Rick Griffin, S. Clay Wilson, Gilbert Shelton, Spain Rodriguez and Juxtapoz founder, Robert Williams.




As part of the origins of this magazine, this show is one of the highlights of the year for us. As Edlin remarks:
On February 25th, 1968, Robert Crumb could be seen peddling a strange new kind of comic book out of a baby carriage on the corner of Haight and Ashbury in San Francisco, the epicenter of the hippie phenomenon then circling the globe. Zap was the cartoon extension of all the other social experiments and art forms feeding off each other at the time, including rock concerts, light shows, psychedelic posters and acid tests. Zap tested the legal boundaries of free expression by indulging in outrageous fantasy and imaginative violence in its dope-induced yarns. The hippie readers may have come to the magazine for validation of their anti-war, anti-pollution, pro-drug, back-to-nature values, but Zap dared to critique and satirize the messy cultural and social work-in-progress as well from the underground's canned and militant "us versus them" to the more troubling and existential "are we them?" the satirical finger was now simultaneously pointed outward and inward, making the audience and authors legitimate targets.

Brock Fetch, our New York contributor, took some photos at the exhibit, and took some shots of the Zap's he had in his collection, which you see above.




Zap: Masters of Psychedelic Art, 1965 - 1974
Through June 25, 2011
Andrew Edlin Gallery
New York, New York