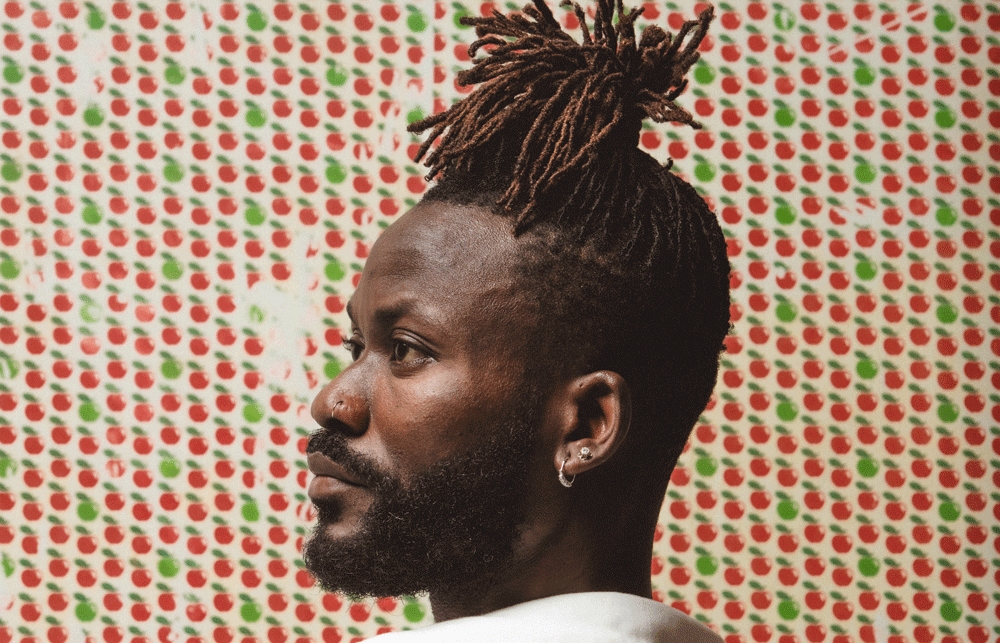 ---
Amoako Boafo
Accelerated Transcendence
Text by Kristin Farr // Portrait by Nolis Anderson
Amoako Boafo paints flesh with his fingers. "This lack of instrumental barrier sets me free and diffuses a barrier between myself and the subject. I am able to connect with the subject in a more intimate way, which allows me to create an expressive skin tone. I don't think this type of stroke can be achieved by a brush," the artist explains. He's described his portraits as self reflection focused on identity, and challenging preconceived notions.
The visceral attraction and veritable overnight success of Boafo's paintings can be attributed to how he activates intimacy when he applies physical, unmediated pressure to his figures, caressing their likeness into actualization with swirling, sinewy gestures. The complexity of emotion is rawly visible.
Boafo grew up and studied in Accra, Ghana before moving to Vienna for love and grad school. Though he already had a handle on his style and sold commissions, he was turned away from the prejudiced galleries of conservative Austria. In choosing to enroll at the Academy of Arts, Vienna, Boafo embarked on a goal to develop a network.
Formal training in Accra helped develop formal skills, and from his studies in Vienna, he gleaned conceptual experimentation approaches. In Accra, he had a community; in Vienna, the opposite. Unwelcome by the local art scene, he and his partner launched a platform for emerging artists of color. This was likely a seed for his new studio compound and residency in Accra, which Dior will help fund as part of a recent partnership with the artist.
"My intention with the residency in Accra is so African artists do not have to leave the continent for professional opportunities," Boafo explains. "It will form part of a growing network of organizations and spaces concentrating on that aim. Then, maybe collectors, when they can travel, they can visit the places that have inspired us. It is important to show resilience for the younger generation, so they always stay focused on their craft. My residency is a safe place for artists to work and share their work to people like them, living in the same place."
Championing his friends has always been a part of his practice, so when his first gallerist, Bennett Roberts, suggested offering a show to Boafo's Ghanaian friend, Otis Kwame Kye Guaicoe, Boafo insisted, "You better! I'm his biggest collector."
"It's a truly honorable reflection of who he is as a person," Roberts notes, "He doesn't see it as taking the shine off himself to help other artists. He sees it as climbing Everest together."
The artist's prioritization of camaraderie is reflected in his newer paintings, and as he works towards his fall solo show, Roberts has noticed changes, "More figures within each canvas, mimicking this idea of inclusion. There were a lot of isolated individual figures in his earlier works, but they've started to broaden to include two or more figures. I think the work will be more about inclusion than exclusion, and the Dior project is part of that, because it was much more of a collaborative effort. Everything good comes from a meeting of the minds. There are discussions and moments spent together, and if you click, that symbiotic relationship does add something much greater."
The contrasting elements of Boafo's subjects, all folks he admires and most of whom he knows, adorned with the patterns of European wallpaper and gift wrap prints, reflects the influence of his geographic duality during formative years, though the artist is more interested in how the patterns celebrate the subject: "My intentions are always to present my subjects in a vibrant way, which is why I decided to embellish my works with gift wrappings. The wrappings adorn my subjects in a momentous way with their intriguing patterns."
Roberts recalls when Boafo says the patterns started weaving their way into the portraits, "I remember him telling me a story from when he was in school—he thought he'd try to use the patterns, and his compatriots said it would be terrible, and he said, 'You watch me.' I think it was a challenge by his friends, and he really took it and owned it."
The patterns also intrigued Dior Creative Director, Kim Jones, who was particularly drawn to the ivy pattern in Boafo's painting, Green Beret, a point of pride for the artist: "Green Beret is a special piece, as this was the artwork Kim Jones drew my entire Dior collection from. He was inspired in my studio when he visited Accra. The ivy is used in many different pieces in the men's collection." Ivy has appeared in vintage Dior collections, so the new relationship felt serendipitous.
Boafo and Jones became fast friends and mutually beneficial influences. The painter was muse and collaborator for the fashion house's Spring/Summer 2021 collection, his glowing figures embroidered with luxurious, elegant garments. Much of the collection appears to be inspired by the paintings as well as the unique, sartorial style of Boafo and his friends in Accra, who modeled the collection in a promotional film for Dior.
Beyond his aura, Boafo's path is a rare trajectory in relationships forged in the art and fashion worlds: "Almost unbelievable," says Roberts. Within one year, Boafo, an emerging artist without gallery representation or elitist connections, was championed by artist Kehinde Wiley, enjoyed his first stateside show, landed a museum residency, sold out a whole booth at Basel (which led to the Dior collaboration), then found himself in the collection of five international museums including the Guggenheim, obliterating auction house expectations, thanks to unsavory art flippers. One painting sold for nearly a million, over 13 times its highest expectation. The rise in demand was beyond meteoric, it was jet-fueled.
Even an early collector, Josef Vascovitz, while looking at his first two Boafo works on paper, mused quietly, "This is from 2019. I find that hard to believe. I thought it was older. It's called Fuck You Mean Though."
Vascovitz's Boafo painting on canvas, Jean-Jacques Ndjola, dated 2020, will soon be lent to a museum, also rare for an artist who has only just begun showing his work—a testament to his singularity. Vascovitz and his wife, Lisa Goodman, collect art from the African Diaspora, and although the couple's taste aligns, she's more interested in context, and he, curious about craft: "Sometimes I'm just lost in the pants, not the face of the figure." Their collection is mostly portraiture, and Boafo's approach stood out to Vascovitz because of the rich hues, "It was shockingly vibrant, what can I say? I instantly liked his colors and the way the figure looked back at you. His work is very active; you feel you're connecting to the person in the painting in an active way. Sometimes it's simply the colors. He picks a lot of bold colors, and his paintings grab your attention and have presence."
Specific about his use of color, the artist suggests phases with different palettes and concoction of a particular alchemy, "Saffron yellow, pink and dark shades of brown, ochre, crimson, cerulean blue and moss green are key to my works, specifically the skin tone. Yellow and pink have been recently key to the backgrounds of my works."
Catching the eye of Kehinde Wiley was a career catalyst for Boafo, whose work on Instagram impressed the luminary portrait portrait painter. Wiley, who had never directly recommended another artist, convinced his own longtime LA gallerist, Roberts, to give Boafo a stage. "I'd never really shown anyone whose work I hadn't seen in person because I'm a true materialist," admits Roberts in describing his impactful, first experience with the work. "When we unrolled the paintings, they just felt new and real, and had such a humanist dimension that I'd almost never felt. It didn't immediately feel scholastic or topical, or of this exact moment. It felt as authentic as a handprint on the wall in a dark cave 60,000 years ago. I may sound bombastic, but that's the emotion I got from it. And we wanted to present it in its most sublime fashion."
Roberts continued showing Boafo's paintings with magnetic response, "I've been to art fairs where people who don't know anything about him gravitated to his work immediately because there's something that touches that very human need to feel connected. Art has a very difficult time, in this day and age, making people feel connected, because there are so many images in the world. Amoako's work jumps over that chasm, beyond popularity, into connection. They don't even come to life until you're in front of them. They're like a visual embrace."
In agreement is Boafo's Chicago gallerist, Mariane Ibrahim, who in her interview with Observer, observes, "I'm pretty, pretty sure that those who separated from their work intentionally probably regret it now, because Amoako is not an artist that is fashionable or anything like that. He's the artist that we've been actually waiting for."
These days, it's unfortunate that flippers can gobble up emerging artists' work at measly prices, finding opportunity for big returns under gallery guidance and privilege. Vascovitz, the collector, lamented that it was once much easier to get his hands on the works he wanted, "The current hot market is really a very recent phenomenon over the last couple of years."
"The Market is a noise," Boafo says bluntly, in the context of his new residency and desire to provide himself and his peers with a local platform in Ghana. He found himself trying to buy back his own painting during his unexpected market explosion, only to have more opportunists take advantage of him. They all saw green. At a time when collectors and museums purported to increase investment in representation, the typical greed in the market was relentless. Artnet reported that one sleaze pretended to be a fan who was broke, and Boafo, flattered, sent him some drawings—which were immediately flipped.
Roberts knows the artist can steady the ride and weather the flourishing siren calls, "Luckily, he is who he is—a very smart, thoughtful and insightful artist with a lot of depth. He was able to deal with it. Many artists couldn't. It would've ruined them. The artists that transcend their time are the ones who have figured how to transcend themselves. His greatest problem now will be how to transcend himself. He did what he had to do to become a great artist, and now he has to figure out how to get out of his own way, which is really difficult."
Variables leading an artist to the height of the art market so swiftly are complex, chance-based and often unsettling, and what makes a great artist is purely subjective. However, as Roberts says sagely, "Time is the leveler," that will help reset Boafo's control of his career and lead to longevity. What makes a great artist is subjective, but as far as the genuinity and salience of his success, Boafo's admiring collector, Vaskovitz, said it best, "All of art history has been punctuated by acts of brilliance."
Amoako Boafo's solo show at Roberts Projects in Los Angeles opens in fall 2021.