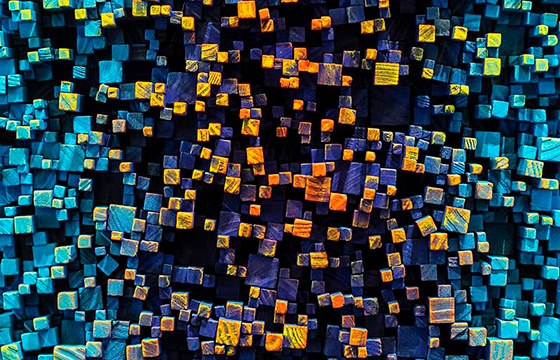 Gil Bruvel
The Impact Artist
Interview by Evan Pricco
Texas-based sculptor Gil Bruvel makes work about force and flow. Combining new art methodology with materials like antiquated wood and metal, Bruvel's work moves and breathes with substance. The series names he gives his work, whether Bending the Lines, or Flow and Cubist, all seem to challenge the perception of time. Even his life story is one of constant motion. Now settled in rural Texas, Bruvel is currently mapping out a steady exhibition schedule as he redefines art in America's southwest.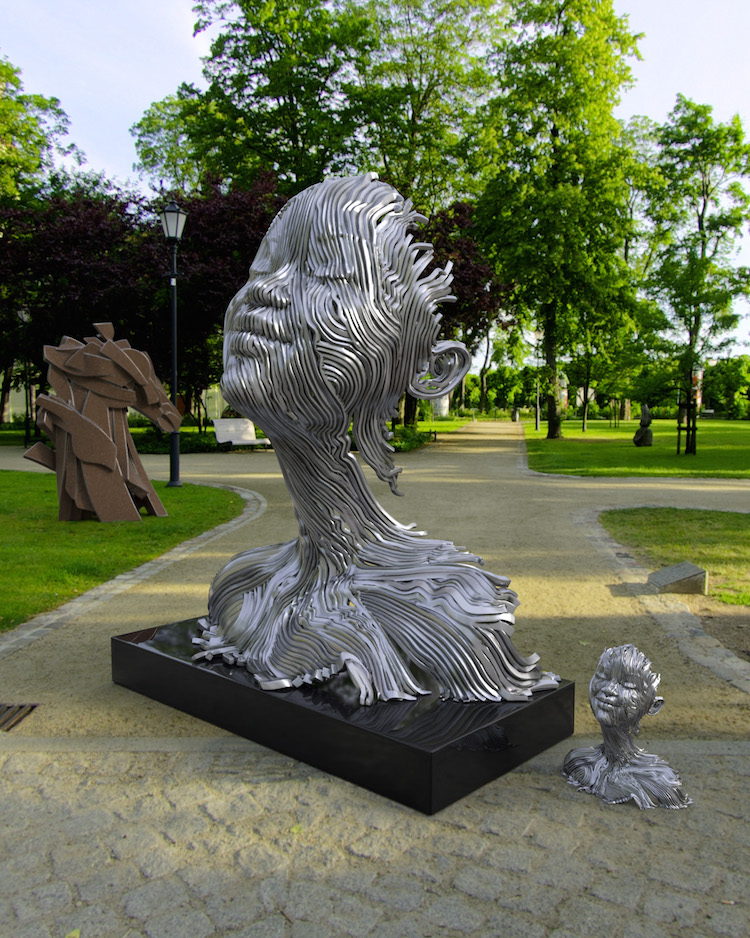 Evan Pricco: With French parents born in Australia and trained in the US, you have an interesting background. Where is home, and do you think that sort of upbringing is what makes your work unique?
Gil Bruvel: That's possible. Home for me right now is in Wimberley, Texas, and I really enjoy it. Before that, I lived for about thirteen years on the island of Maui in Hawaii, which was, of course, a source of inspiration. I think the exposure to multiple countries, cultures, landscapes, and people is always a good way to expand horizons and offer a wider perspective about things that would not be available otherwise.
In a good way, you are all over the place in terms of mediums and approach. But there always seems to be this theme of movement in your work. Nothing seems settled. Do you think that is an accurate description?
Yeah, it is, definitely. I have always been fascinated with the translation of movement and motion. First of all, universally, everything is changing, constantly in movement, and to me, that is related to the element of time. There is a consistent impermanence of life, objects, and events. I am inspired by things like erosion, that disintegration of the landscape, or even a piece of wood, whether from wind or water, that creates enthralling patterns.
How do you get started on a sculpture?
I started working with sculpture at a really young age. My dad was a cabinet maker. When we were young, he taught my older brother and me how to make sculptures out of carving wood, ultimately to help him fashion some of the furniture that he was producing. So, at an early age, I had the basic idea of how to shape out the volume of a form. Then I went on to explore stone sculpture, which I only did for a short period of time. Eventually, I got to painting, and it was only in my thirties that I began to dwell in sculpture again.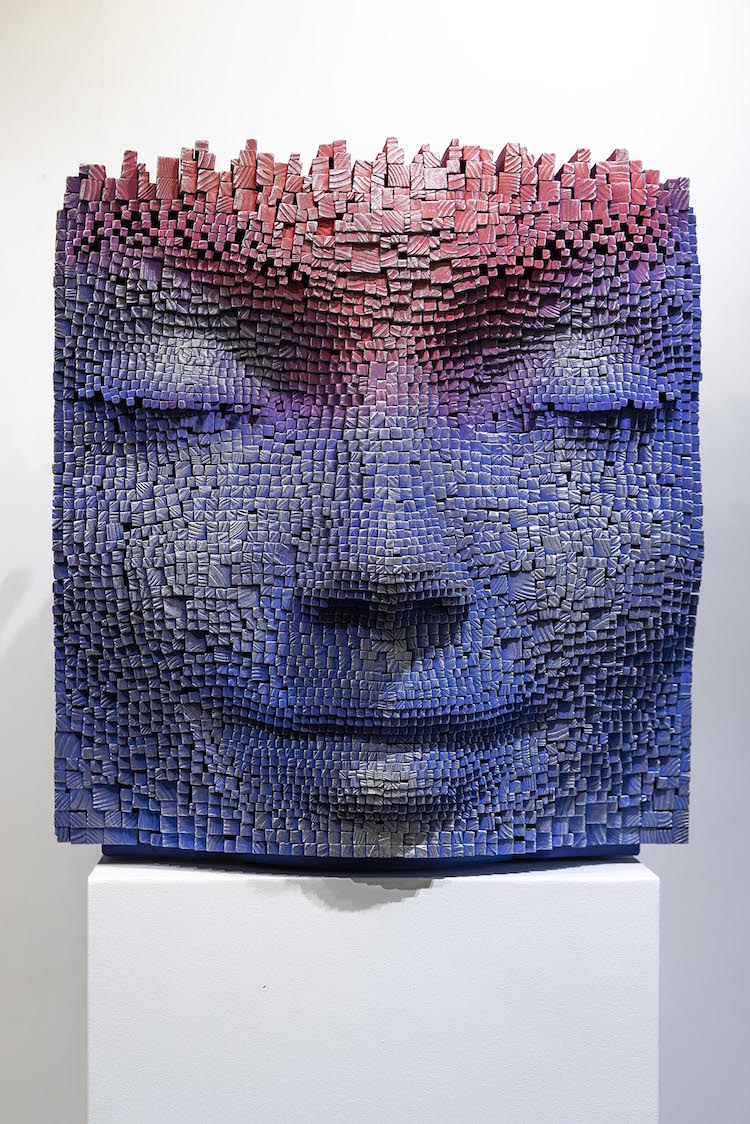 I've seen the Instagram videos where you are digging and adding these elements to a work; but what is your full process like?
What is mostly going on in my studio right now is the creation of these pixelated forms, sculptures in the round, made out of wood, that are a part of the Bending the Lines series. There are two factors in this method. Wood is a natural material that grows and creates patterns of its own through the nature of its own fiber. Burning the wood, to me, embodies the movement of time, and brushing the ash away from the surface exposes the accentuated pattern of the wood grain. This is of interest to me in relation to the subject matter of the faces, which are meditative.
You are based in Texas, which has gone through such an artistic transition over the past decade, in places like Austin, Dallas, Houston, even Marfa. They have really made the state more of an art epicenter. Have you noticed the change?
Oh, absolutely. I do think that there is an element that is key. Texas is a very prosperous state and the people are true art lovers. They love to be wowed by the artwork and by the artists' presentations. Texans have no hesitation when it comes to making purchases and displaying them in their houses. They are invested in culture. Most of the museums in Texas are extremely enterprising about what they exhibit, and most of the galleries are extremely dynamic when it comes to providing art collectors with what they want. I think the contemporary art world has come to realize that there is more access to creativity than ever before in the state of Texas.
In particular, the Flow series is how I got to know you. When looking at the process of these works, it's almost like I see you as a mix of set designer, architect and sculptor. Maybe because, as a kid, you were always building stuff?
Yes, that is related to growing up with and having access to a professional workshop. My dad's workshop was fully equipped with every tool imaginable for both woodworking and metal. My fascination began there, and since then, I have been devising methods and procedures to create my artwork. I think that is one of the reasons I continue to explore different mediums, whether with paintings or sculptures, because I think this is what an artist does. As a result of building things, I became enthralled with architecture, all forms of sculptures and styles. I do not hesitate to continue exploring the incredible possibilities with all the tools that we have available. This includes digital technology that is at our disposal as artists.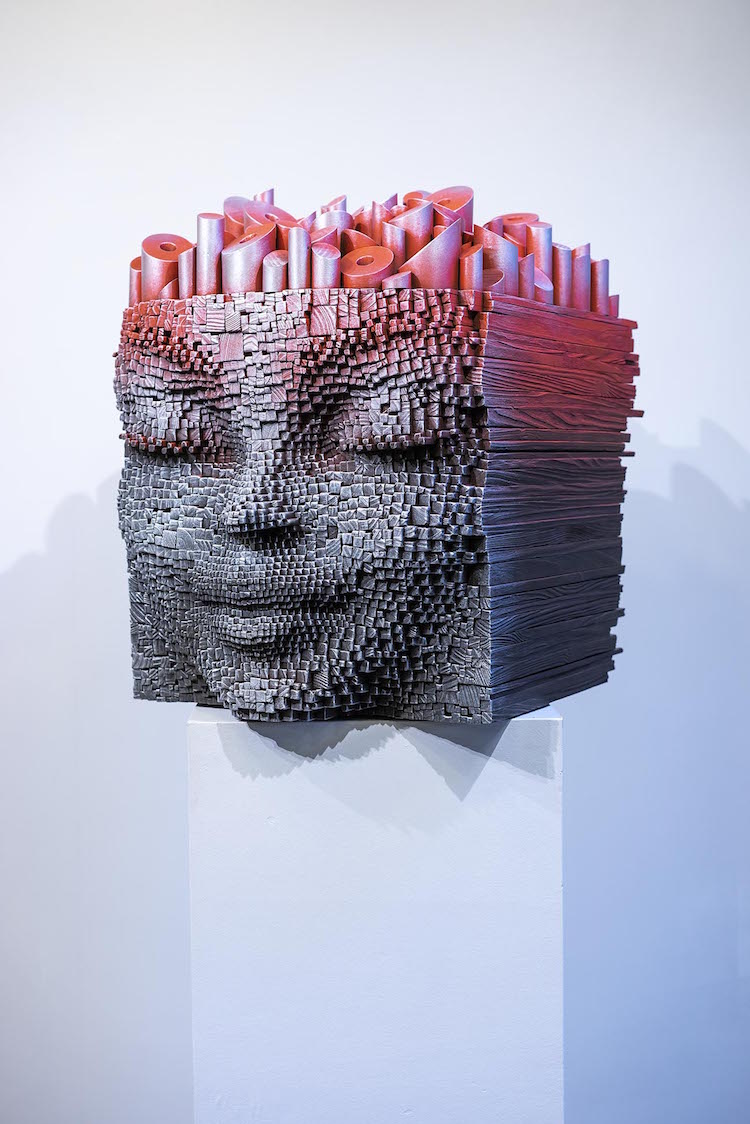 Do you feel more comfortable in either sculpture or painting?
Comfortable? I love both so I don't think that I am seeking comfort. It is more about what I learn in practice from sculpture. I sometimes apply sculpture to painting in terms of expressing shape and volume. What I learned from painting can be extrapolated into concepts for sculptures. Creation is not necessarily comfortable. Sometimes the indication of progress is discomfort. I am not saying that I am seeking discomfort, but typically, it's a way to see that we stretch ourselves rather than fall into the usual conditions and habits.
What projects and shows do you have coming up?
Currently I am working on a set of stainless steel sculptures that are an interpretation of a super-car. The car that this sculpture is modeled after is unique. The limited edition SCG 004 CS is currently being hand-built in the United States by Glickenhaus. Of course, they are out of this world in terms of their power and incredible design. I am lucky enough to be completing a sculptural interpretation of this amazing car, which will then be available to the cars buyers.