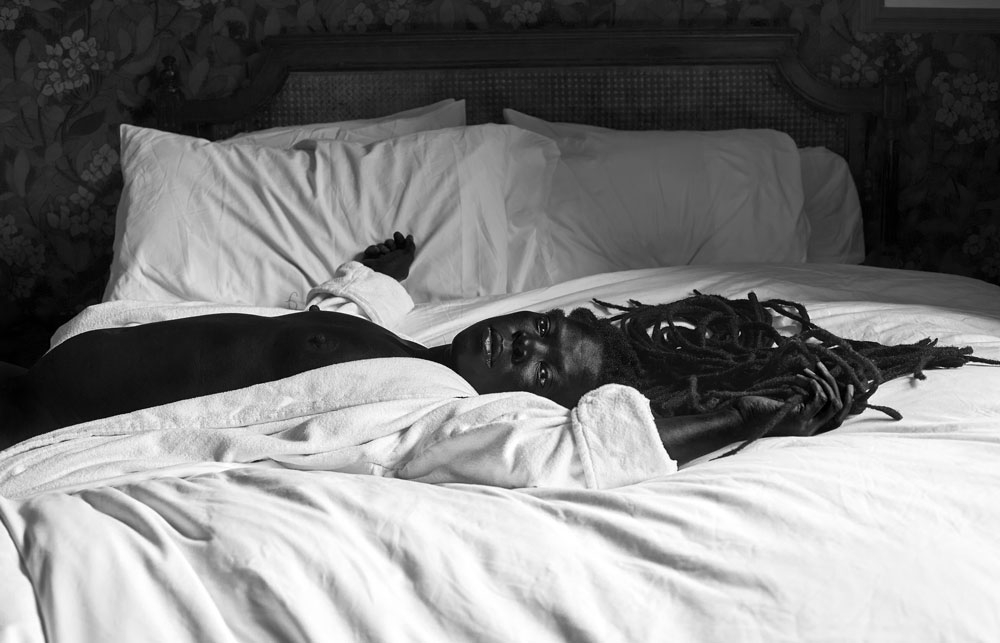 ---
Zanele Muholi
The Bronze Age
Interview by Jonathan Carver Moore // Portrait by the artist
During a visit to the Ottawa Art Gallery a few years ago, I finally felt able to truly see myself in a museum. It was visual activist,
Zanele Muholi
's (who uses they/them pronouns) self-portrait, Faniswa, that commanded my attention. Seeing that photograph of a Black queer person on the wall really resonated with me. So you'd better understand, I am Black. I am gay, and I am a man. Historically, it hasn't been often that I walk into a space, particularly in the art world, and see myself in the work, although many times I've closed my eyes and reimagined the photographs and paintings to authentically resemble the appearance of people like me. The great thing about this moment on this day in the museum was that Zanele Muholi's work made my imagination a reality, one to which so many of us can relate.
Of course, I immediately posted a photo of Faniswa on Instagram tagging Zanele Muholi, and the next day got a direct message from them thanking me for posting. To be honest, though, that post was a tribute to them and my way of saying thank you for showing me, allowing me to see someone like me—someone like us on these walls. I thought it would be a short-lived conversation over Instagram. It was not and still is not. Since that day Muholi and I have been in constant contact with each other. We have had numerous conversations over the phone as well as several FaceTimes to connect (I live in San Francisco and Muholi lives between Capetown, Durban, and Johannesburg.) We finally met in person last summer during their visit to San Francisco, and just recently I traveled to Cape Town for ten days to spend time with them. On that trip, I visited the foundry where the sculptures are made, spent time in the studio with them, and conducted this interview.
Jonathan Carver Moore: How did you begin your career in photography?
Zanele Muholi: I took up photography when I realized that black lesbian visual history did not exist in South Africa. I had searched for images of people who looked and identified as I did but could not find an archive at all. Attitudes of anti-blackness, exclusion, and the notion that homosexuality was alien to African cultures caused this erasure of Black queers. I started documenting couples in the Only Half the Picture series, highlighting the existence of Black lesbians in South Africa. I documented more participants in Faces and Phases, showcasing black queers living their everyday lives, and observing their triumphs as well as lows. Somnyama Ngonyama, was a realization that turning the camera on myself could be healing, besides documenting my existence and immortalizing it in my own voice.
Can you elaborate more on the importance of photographing and capturing queer Black bodies?
Historically, photography was for those of means, and as a consequence, they got to set the tone, angle, aperture, and narrative behind the captured images. I wanted to change that and say how we as black queers exist in varying social strata, taking away from the narrative of perpetual tragedy. There were no archives that spoke to our existence as productive citizens of our country. It is important for us to show we are present, to be felt, to love ourselves, and acknowledge each other's presence. I started the series, Brave Beauties, more than a decade ago with the intention of documenting our celebratory moments. Participants felt seen and empowered as they posed confidently and unapologetically in spaces that they lived, loved, and played in.
What was the turning point for you to want to document Black people, specifically Black queer people, including yourself?
It was the constant and nagging questions within myself like, "How many people like us are published, how many exhibitions about and by us do you see, how many of us do we see in influential spaces, how many of the books are written by us in our own voices, etc?" I wanted to make sure that we had access to those spaces that held power to influence and educate. I knew that I had to be the conduit to the change that I wanted to see. Documenting others as well as myself is not just a practice in archiving, but healing varied traumas as well. Seeing and being seen, turning the power of erasure on its head, is proving to be the therapy many Black queers did not know they needed. Presence and visibility are vital for a people to thrive at the very least.
I would imagine a lot has changed for some of the individuals you photographed in 2011 compared to today. As the person behind the lens in this series, what is different?
As with life, everything is in a constant state of motion. So much is different. The participants, whom I shy away from calling subjects, are still going on about their everyday lives but sadly some have passed—most succumbing during the pandemic. I am grateful that they are recorded and counted in history. Later this year I plan to publish a book around the series, which will be similar to Faces and Phases. Over the years I have continued to visit with and shoot with the participants, documenting candid moments of happiness, sadness, and observing milestones. This book will also be part of the art education that Black South Africans and beyond will have access to. I pour my profits that benefit my community as a Black person.
Can you tell me more about accessibility to arts education and what you want to do or have done to grant young adults access to it?
In February of 2022, I started the Muholi Art Institute in Cape Town. It is an art education hub where artists come together to create works and brainstorm ideas that respond to race and gender inequities, and human and societal issues at large. I created the Muholi Art Institute because I wanted to give opportunities to young artists. I want to inspire them with new strategies for creating visibility. I wanted to give them a platform in which they could articulate their vision in an artistic way.
Please tell me more about the students and the program.
The students at the Muholi Art Institute are from provinces all throughout South Africa and currently have students from Durban, the Eastern Cape, Johannesburg, and Khayelitsha. The artists are painters, photographers, ceramicists, musicians, and writers. The institute covers their housing costs, studio space, a stipend, and mentorship during their stay. We host panel discussions with international curators and gallerists, as well as provide portfolio reviews of their work at the conclusion of their apprenticeship. Exhibitions of the students' work have been successfully held with their pieces going up for sale. It's part of the literacy plan for them to observe and understand how the art world works—how people observe, make connections, and respond to their work. It is imperative for these young artists to understand the business aspect of the art community.
How do you feel knowing that you are so positively impacting the lives of your students?
In Zulu, we have a proverb that says "izandla ziyagezana" (one hand washes the other) and we are taught this at a young age. It speaks to one not being an island to thyself as one cannot rise without the help of others. That teaching comes with the aspect of always observing humility. I am here because I stand on someone else's shoulders. I do not come from money and my story could have been different if not for that mentorship. I don't see how I wouldn't help someone else as well. It's foreign to me. I am now in a position where I can help someone attain the necessary education or help them stage their first solo show, for example. These sentiments helped the Muholi Art Institute, a fully self-funded venture, come to life. It has been enriching to me too because I learn new ideas from the students. I feel that as we uplift each other, we become better as a society and it makes life feel hopeful.
Your commitment to reinvest in the community, particularly the Black queer arts community is truly commendable. Is there any one series of your work that you think most aligns with how you support artists at the institute?
With Somnyama Ngonyama, I would like for people observing those images to love themselves. I want them to know that they can take care of themselves. I created those images because I was frustrated, I was hurt and needed to see, heal and love myself. I needed other people to listen to me. I am grateful to my big collectors who have resonated with my work as they are the ones who allow me to reinvest in the community. I am now able to pay it forward, giving opportunities to others, just like the one that was given to me.
Speaking of Somnyama Ngonyama, why are the images only in black and white?
At my core, I am a visual activist conveying commentary through my images. This series is a political piece that speaks directly to issues of blackness as they pertain to me. It is so important to understand the shades of black and how they are presented. I also feel like my work is steeped in timeless and classic photography since my training was in black and white. I learned how to process my own black-and-white photos. I think of my work as conscious art when thinking of themes in art. I see it as a tool to reclaim spaces.
Outside of your photography, I have seen other mediums you are exploring such as your paintings, beadwork, and your bronze pieces. Would you mind detailing those works a bit more?
I have expanded the scope of my creativity because I wanted to challenge myself. It has allowed me to work with different elements like colors and textures, when painting or creating beadwork. I learn so much in the process. A group of women in Durban, including my sister, bring their wealth of experience and give me a different perspective from what I am used to doing. I have to say, working with my sister has been an incredible bonding time too because I am always on the go!
Within your explorations of the above mediums, the work is mostly, if not all, connected to your self-portrait series Somnyama Ngonyama. Why is that and why did you choose bronze for the sculptures over another material?
Indeed, the works are all an extension of that particular body of work. Bronze is special to me because of its longevity. The works will live on forever. Black queer presence won't and can't disappear, thus my choice.
What is on the horizon for you or what does the future look like?
There are a few projects I am working on that will be released this year. I am creating a children's book, releasing a second edition of Somnyama Ngonyama with the latest images, publishing the Brave Beauties as well as working on a show in San Francisco. Still, sometimes I get this sense that I haven't even started. There is still so much work to be done.
Zanele Muholi's exhibition at the European House of Photography (MEP) in Paris was on view through May 21, 2023. This interview was originally published in our Summer 2023 Quarterly.