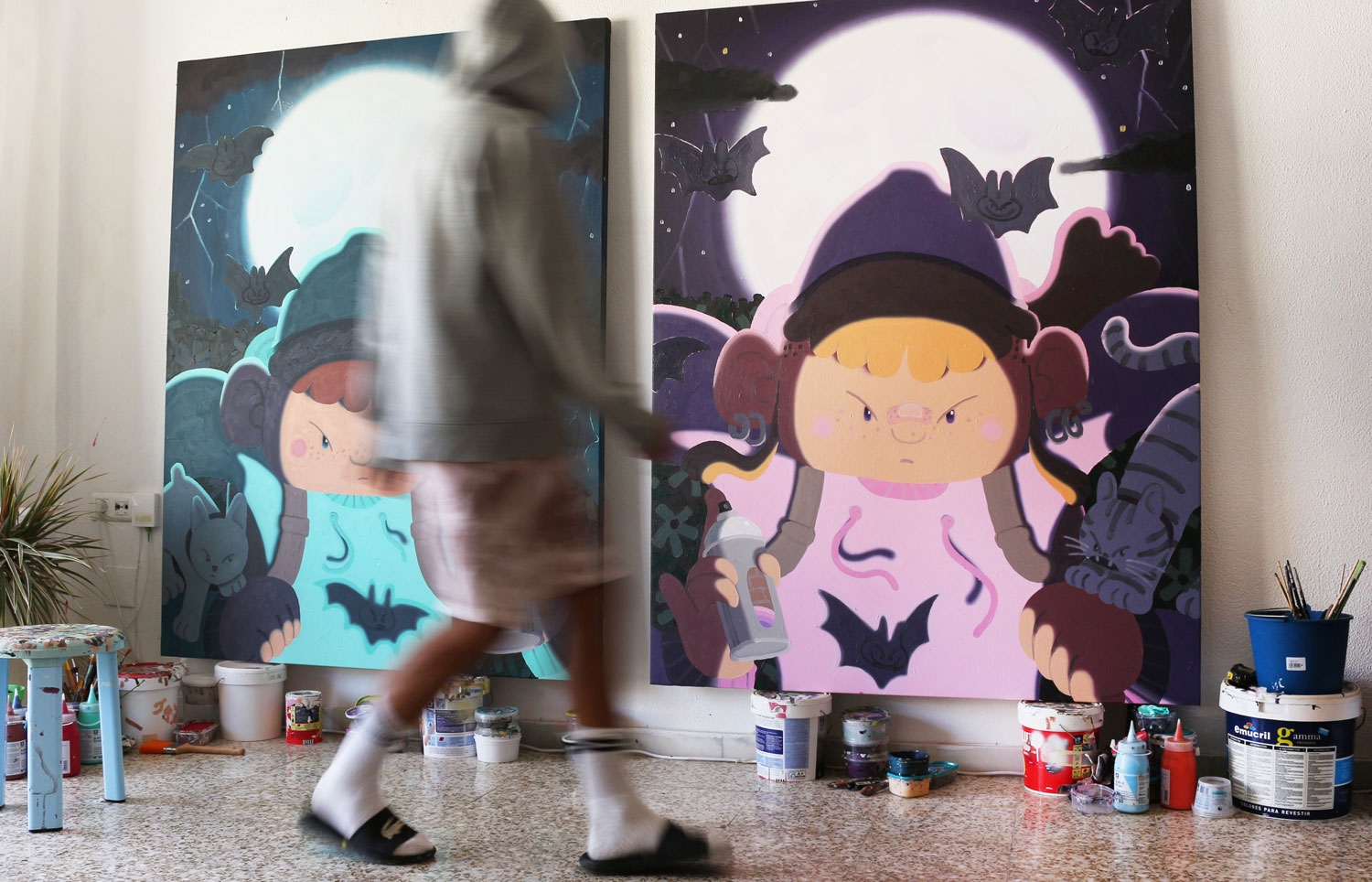 ---
IMON BOY
Look at the Stars
Interview by. Evan Pricco // Portrait by the artist
I was convinced that Spanish artist Imon Boy had a Ph.D. in Astronomy because I read it on the Internet and believed it to be so. But there's always a catch in assuming the Internet is about truth, and perhaps it was more about me imagining this cheeky painter and graffiti artist looking up at the stars at night with such expertise of the universe, producing these playful, animated paintings and street works. Because of his transcendent success over the last few years, Imon Boy ushers this fantasy. He may not have a Ph.D., but he does possess the ability to transport the viewer through stories both imaginative and introspective. Though he has a penchant for stretching the truth regarding the true character of Imon Boy, there is strength and sincerity in the works. In the end, by looking up at faraway galaxies, he helps clear the path to love, connection, and meaning.
Evan Pricco: What made Malaga, where you grew up and still live, such a great city to start painting in the streets?
Imon Boy: The city or the place where you live is not a condition to start painting. I think that depends on each person, or at least it was in my case. It is obvious that a big city full of graffiti encourages people to want to paint graffiti, and also makes citizens hate it. In my case, I was moved by curiosity, and wanting to paint with friends in the street for the experience. I've been painting on paper for as long as I can remember, so why not do it on the wall, too?
We have spoken to many Spanish graffiti artists and muralists over the years, as it seems to be a country where the movement really took off, and in so many different directions. Why do you think Spain was such a vital place for the growth of street art?
This is a fact that surprises me because I don't know! I don't know if Spain stands out since there are many more countries with more graffiti and muralism activity. I can't be precise, but maybe it's the weather or maybe because it's a small country, well-connected to its suburbs. You can find many abandoned places, with virgin walls, the result of the real estate bubble. That is where the muralist usually begins. Places with less graffiti encourage you to create something calmer. You do not paint the same when there is legality or illegality. Places with excessive graffiti, such as the city center, encourage you to bomb. I've never really been very attached to the world of graffiti, I don't know many graffiti artists and I don't care that much. That's why I'm very ignorant in some aspects
Is Imon Boy the only name you have used on the street? And I hope you'll give me the genesis of the name…
It is a question that I am often asked, but have never been able to answer in detail. I think I was eight years old when I met my neighbor to sign on some swings that were on the beach, right in front of my house. We also met to play Pokemon. I had not yet heard the word graffiti in my life, but we wrote on the benches. When I was thirteen years old, I started writing on things again, this time being a little more aware of everything and perhaps what graffiti was.
I have had several names that I changed due to problems with the law, and also to refresh myself. A change never hurts. I used to sign "NOW!" but then I decided to flip the name to sign "iMON." A signature and a name mean nothing; it's an excuse to go out and paint.
Have you thought about removing the name of the work from the gallery and going with your first name?
It's kind of funny. I've used my first name for a few years, on a few occasions, for artistic purposes. With my first name (which I prefer not to give for reasons of anonymity), I have received awards, scholarships, shows, workshops, and projects with museums... but it is not something that I use on a daily basis. It simply arises at very specific moments, every few years. This side is very infamous, and not widely recognized outside of my borders.
That is, I have become two artists at the same time. Imon Boy comes from the street, from painting graffiti, from drawing, painting, and creating his own identity also within the studio. Imon Boy is pure and real, more sincere. Imon Boy's work is what occupies my head on a day-to-day basis. The other name is entertainment, something anecdotal.
It's very curious because some people treat me one way or another, depending on the artist they recognize. I prefer to live anonymously under the name of Imon Boy. No one needs to know what I look like, what my face looks like, or anything that stands out of the picture. I prefer my work to be the protagonist.
When you get into the studio, and you start to paint these characters that appear, are they from your real life? And I suppose that also applies to work on the streets.
All that I do is like a diary for me, a diary where I tell stories or scenes that have caught my attention. Many of these stories and these characters are real and others are taken from my imagination, but always related to what I do or the world in which I move. These scenes are mixed with the things that attract me: movies, video games, traveling, friends, the beach, animals, and food. The basis of everything I do is drawing. My way of working is to draw and get ideas, fill out notebooks, and when an idea is interesting to me on a pictorial level, I do it on a canvas.
There is one thing that is very curious to me. A few months ago, at my mother's house, I found a notebook with drawings from when I was five years old. These drawings are full of random scenes but very similar to the scenes I do now. Beach scenes, vehicles, palm trees, animals, and everything that surrounded me and surrounds me today. But not only that, even the way they are built was similar. Believe me, I was amazed as I put one drawing next to another and saw the resemblance! If you add all of this to the influences I have had throughout my life, such as the characters from Doraemon or other cartoons, the result is my current style.
What is your relationship with video games? I recently spoke with a painter who thought of his night walks as part of this video game and would include these video game elements in his work as a kind of subconscious game he played when leaving the house every day. You're talking about how graffiti can be a game, with points, winners, and losers. The best places get more points. What do you think about the culture of video games?
Since I was little, video games have been present in my life. Game Boy Color with Pokemon, PlayStation with Crash Bandicoot, Spyro, MediEvil, Driver, Tekken3, Tony Hawk, Need for Speed or Medal of Honor. Even games for PC like Doom, Worms and the most current ones like Minecraft or Hotline Miami. All video games, like movies, apart from entertaining us, tell us a story. They are a very powerful entertainment and communication tool. Cinema and video games have educated and taught us how we should behave and what feelings to have, depending on the music, the sounds, the color, the light in the atmosphere, the photograph, or the plane that they show us.
Sometimes I take advantage of those sensations that the aesthetics of cinema and video games give us and try to create a similar narrative by creating a series of works. In a way, all this is in my head every day. Also, life for me is like a video game in which you go through levels. I imagine scenes from my daily life like movie shots. When I hear a song that transmits something to me, I feel like I'm in a video clip. When I have to run from the police, I feel like I'm in a video game.
There was an interesting story on IG today that you told about being a housekeeper and this kind of fantasy element in your life. From interviews and in the way you explain yourself to the media or even in press releases, I often wonder how much is truth or how much is the creation of this Imon Boy character. Have you always been a storyteller?
I like the term storyteller. I have always counted something, in one way or another. As I said before, this is a diary for me, and I tell of things that happen to me or that are something of a daily occurrence. The stories I tell are personal, though sometimes they can't even be called stories. They are thoughts that go through my head, and instead of drawing or painting, I write them. This is not something I always do. Only when I feel like it. A single painting, a drawing, or an image, already tells a story, sometimes a little more open and other times a little more closed. On social media, when I write an anecdote or a story, the viewer tends to connect much more with the image, and it makes me get closer to painting as a diary.
When you think that something I'm saying is not true, I think that it may be a metaphor and that I am trying to throw an idea at you. I want to talk to you. I want you to see my painting, feel it, and think about it. In a way, Imon Boy is a name I use to not show my face. But the fact is that this is my life and I am the one who lives it. Being anonymous, it is normal to wonder about things. Just let yourself go. It is normal to doubt, and more if that information comes from the internet or any other media. After all, we believe everything we see, everything we hear, and read. The good and bad. My painting is what I want you to see.
So, what is then your relationship with fantasy?
I have always been very restless. I need to do something, to create. And yes, I am very imaginative and decisive. I'm that guy who was chosen to paint the covers of class papers. I have always been good at imagining and creating things. Even before dedicating myself to painting, I traveled with few resources, taking the opportunity to paint graffiti with paint found in the garbage or stolen from a recycling point. I have slept on sofas, in cars, parks, beaches, or swimming pools. I have met people from all the cities where I've lived and shared points of view. They have given me a sofa to sleep on and they know that I will give them mine. This is nothing special. I don't want to sound pretentious or appear to be a big gamer. I do not need it. Anyone can do these things. I am a normal person.
What I mean is that I have always liked living a bit like an "other." I don't know how, but I always end up involved in peculiar situations. Maybe I look for them or maybe they look for me. Boredom has made me step out of my comfort zone many times. The sum of all this is my interest in art, creativity, imagination, the cinema that I have seen, cartoons, comics, and aesthetic references, generating some slightly different stories.
Is that what makes a good graffiti artist, or a dedicated one? Someone drawn to fantasy worlds?
The issue is that what some see as fantasy, I can see as something everyday or normal. For example, a hairdresser can tell you millions of stories and gossip about his or her clients. Some stories may be unbelievable and others may be false. Someone who paints graffiti also has many stories to tell, depending on the world in which they move. This happens because they're someone who knows the street, does things that others do not do, and see things that others do not see. Like a bank robber, he or she could tell us amazing stories about their life.
Here is a story: I recently spent three hours hiding in a hedge, hiding so as not to be caught by the police. It was not the first time. I was seeing the stars and enjoying the night. I was enjoying it in a way. This may be funny to you because of how I tell you, this anecdote ended with a good ending. I know many graffiti artists who have much more to tell than me. People who travel countries expressly to paint a train, people who sneak into subway depots who have been stopped by the police on many occasions, or who have seen things that I haven't seen. People will think that my anecdote about the hedge is ridiculous and insignificant compared to where they live. All this can be extrapolated to any of the stories I tell, to any area of my life.
In our last interview in 2019, you shared observations about graffiti, "Everything has names, rules, and protocols. It seems that if you are not faithful to these rules, you do it wrong and therefore you are a 'toy.' And I like being a 'toy'." I thought this was hilarious when I first read it, also refreshing. You weren't taking yourself very seriously at the same time you were taking your art seriously. So what do you think about this statement now?
I reaffirm what I said. I don't take anything in the world of graffiti seriously. What I do on the street is ephemeral, I don't care what happens, I don't care what they say, that world doesn't represent me. I'm still a "toy," I like it. What I am looking for in the studio is very different, there is a job planned, there is a real interest and a search for new things that I am not familiar with. This does not mean that inside the studio I am strict, or change my speech and be less fun. The intentions just change.
Street work is not for sale, it is simply lived and enjoyed. Studio work has a destination, which is mostly the gallery. There is commitment, and having a commitment does not imply that it is something negative, quite the opposite. I still enjoy painting in the street, just as I enjoy studio work.
If you had to take two living graffiti artists and two painters to dinner, who would you invite?
I would take two graffiti artists who have no idea about the world of graffiti, let it be their first day. As ignorant as possible so I don't have to listen to talk about graffiti or nonsense. Even if they don't come, that's better. In their place, I would take two more painters, Danica Lundy and Jonas Wood. The other two painters could be Kyle Staver and Robin F. Williams.
In recent years, your gallery practice and fine art have gotten a little tighter, and more refined, but keeping that fun and playful part of what you do on the streets. What do you like right now about painting in the studio?
For some time I have been attracted to playing with light. I started with the lights from the screens and now with natural light. I also like to reduce the color palette. But what stands out right now is my desire to create a narrative by painting several works at the same time. If with one work you can create a story, imagine what you can do with five! I like to play with the same image, changing the zoom, changing the point of view, or changing the format of the image. It is not the same to solve a large task as a small one, in all aspects. And as always, I like to get out of what I already know how to do. I escape from the "easy to do," in my own way.
I want to make it clear that I am not looking for any intellectual discourse or any concept outside of what I am. My painting is self-referential.
We are speaking at the end of 2022, and it was a great year for you, a solo show in Los Angeles with Thinkpsace, supported by work in Hong Kong with AISHONANZUKA. There were works in Shanghai and solo shows in London. It has been, what I believe, a defining moment for you. What is the story of Imon Boy for 2023?
This has been a great year and there has only been one penalty! Truly, each year has been decisive, and this one will be, too. Ask me at Christmas 2023, and you will see.
Wait, what was the one penalty?!
It is one of those penalties that makes you think, "Why?" It is a long and very very absurd story, and expensive. Problems on the train tracks. Although I have paid, I prefer not to give details for safety and out of respect for the two friends who came with me. There is something that I can tell you though. When I started painting, I tried to save money that was only used for penalties. Fines as you call them. At my first job, I had saved €300, just to pay if I ever got caught doing something illegal. It's not much compared to the cost of a fine, but in my city, at that time, it was normal. Money is hard to get, and it hurts to pay—but it hurts me more if my parents have to pay for it!
Leave your father's wallet alone, graffiti is your thing. Believe me, you will paint more relaxed. I recommend that everyone have a small piggy bank for their comfort, depending on the degree of illegality in which you move.
Where are you happiest right now?
I can be anywhere. With people I love, petting dogs and cats in the street, on the beach, in the mountains, eating pizza, working in the studio, sleeping, watching a movie, or hiding in a hedge waiting for the police to stop looking.
@imon_boy // He is currently showing work at BEYOND THE STREETS in London // This interview was originally published in our Spring 2023 Quarterly // Imon Boy's The Beginning of Something is on view at CAC Malaga through June 4, 2023.